USGenWeb
Census Project
Sending E-Mail Attachments Using Pegasus
---
Click on the index tab that says "ATTACHMENTS - F7"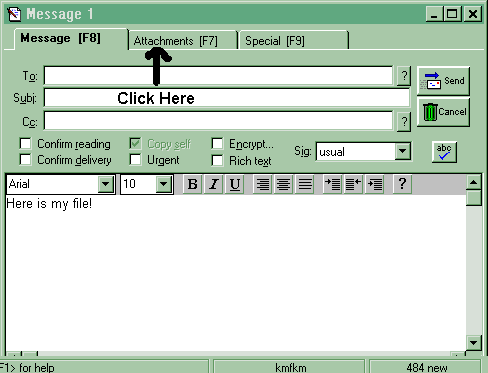 This will give you the Attachment screen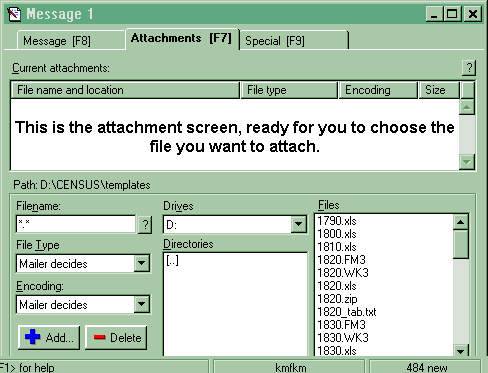 Find the Drive and folder that your file is located in, they will show in the two lower center windows. The files that are in that folder will show in the lower right hand window.. scroll down to the file that you want to attach, and highlight it... you may either double click on the filename, or click on the "ADD - +" sign on the lower left hand side of the screen.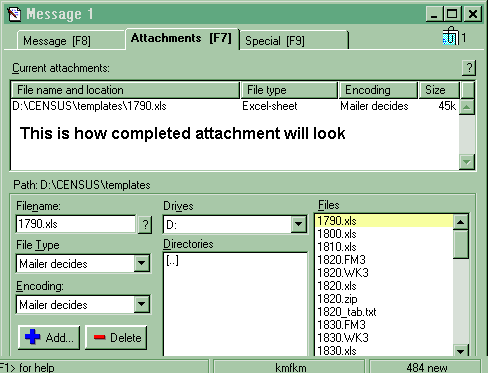 The name of the file will appear in the upper window. If you have chosen the wrong file, you may "unattach" it by clicking on the
"- Delete" button.
---
Volunteer to Transcribe
|
Transcriber's Info
|
State Census Index
|
Site Map
---
Online Census Inventory
|
The USGenWeb Census Project
|
Mortality Census Assignments
---
To narrow your search results put Last Name first inside quotation marks.
EXAMPLE "Smith, John"

Webmaster
---
© The USGenWeb Census Project ®
---