---
Sixth U.S. decennial population census.
U.S. population: 17.1 million (14.6 million free, 2.5 million slave)
Census conducted by U.S. marshals under the direction of the Secretary of State.
Census day: 1 June 1840.
Mandated copies: Two sets, one sent to the federal district court,
the other to the Secretary of State.
Information Provided on 1840 Census:
Name of family head
age
sex
race
slaves
number of deaf and dumb
number of blind
number of insane and idiotic and whether in public or private charge
number of persons in each family employed in each of six classes of industry and one of occupation
literacy
pensioners for Revolutionary or military service.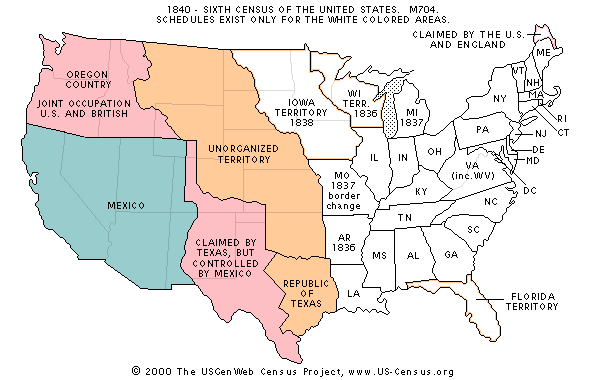 ---
Volunteer to Transcribe
|
Transcriber's Info
|
State Census Index
|
Site Map
---
Online Census Inventory
|
The USGenWeb Census Project
|
Mortality Census Assignments
---
To narrow your search results put Last Name first inside quotation marks.
EXAMPLE "Smith, John"

Webmaster
---
© The USGenWeb Census Project ®
---