---
Eighth U.S. decennial population census.
U.S. population: 31.5 million (27.5 million free, 4.0 million slave)
Census conducted by U.S. marshals under the direction of the Census Office appointed by the U.S. Secretary of the Interior.
Census day: 1 June 1860.
Mandated copies: Three sets, one to the county court, a second to the secretary of the state (or the territory) and the last to the U.S. Secretary of the Interior.
Information Provided on 1860 Census:
Name
age
sex
race
value of real estate
value of personal estate
occupation
birthplace
whether married within the year
school attendance
literacy
whether deaf and dumb
blind, insane, idiotic, pauper, or convict
number of slave houses.
Supplemental schedules for slaves, and persons who died during the year.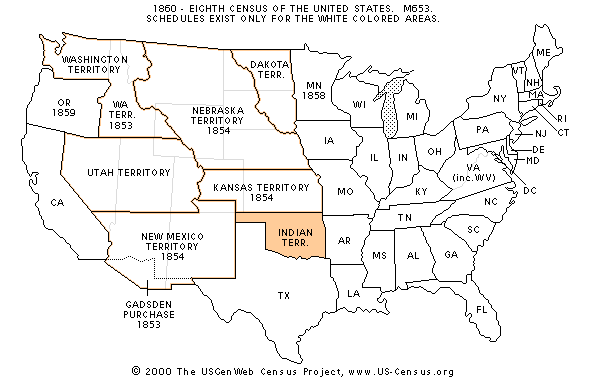 ---
Volunteer to Transcribe
|
Transcriber's Info
|
State Census Index
|
Site Map
---
Online Census Inventory
|
The USGenWeb Census Project
|
Mortality Census Assignments
---
To narrow your search results put Last Name first inside quotation marks.
EXAMPLE "Smith, John"

Webmaster
---
© The USGenWeb Census Project ®
---