---
Tenth U.S. decennial population census.
U.S. population: 50.2 million
Census conducted by the Superintendent of the Census (Census Office, U.S. Department of the Interior).
Census day: 1 June 1880.
Mandated copies: Two sets, one an abbreviated version to the county court, full version to the Superintendent of the Census.
Information Provided on 1880 Census:
Address
name
relationship to family head
sex
race
age
marital status
month of birth if born within the census year
occupation
months unemployed during the year
sickness or temporary disability
whether blind, deaf and dumb, idiotic, insane, maimed, crippled, bedridden, or otherwise disabled
school attendance
literacy; birthplace of person and parents.
Supplemental schedules for persons who died during the year.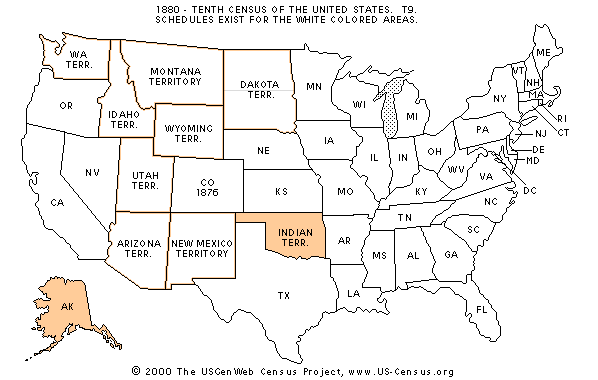 ---
Volunteer to Transcribe
|
Transcriber's Info
|
State Census Index
|
Site Map
---
Online Census Inventory
|
The USGenWeb Census Project
|
Mortality Census Assignments
---
To narrow your search results put Last Name first inside quotation marks.
EXAMPLE "Smith, John"

Webmaster
---
© The USGenWeb Census Project ®
---