---
Almost all of the 1890 census lists were destroyed in a fire in the Commerce Department Building in January 1921. Only a few schedules exist. They are available on three rolls of microfilm from: Census Microfilm Expeditors or the National Archives Series: M407 Rolls: 1 - 3.

An index to the remaining schedules is available on microfilm. Series: M496 Rolls: 1 (A-J) and 2 (K-Z)

A NOTE TO RESEARCHERS:
1890 Civil War Veterans Census Due to a fortuitious bit of luck, an alternative set of census records exist for 1890. A Congressional act of March 1, 1889 provided for the taking of a special census enumerating those who had served (or their widows) in the military during the War of the Rebellion.

Each schedule calls for the following information: name, veteran's rank, company, regiment or vessel, date of enlistment, date of discharge, and length of service in years, months, and days; post office address of each person listed; disability incurred by the veteran; and any remarks necesssary to complete a statement of his term of service.

Practically all of the schedules for the states of Alabama through Kansas (alphabetically) and approximately half of those for Kentucky have been lost, possibly by fire, before the transfer of the remaining schedules to the National Archives in 1943. Civil War Veterans census microfilms exist for 34 states the District of Columbia and miscellaneous United States Vessels and Navy Yards.
Eleventh U.S. decennial population census.
U.S. population: 63.0 million
Census conducted by the Superintendent of the Census (Census Office, U.S. Department of the Interior).
Census day: 1 June 1890.
Mandated copies: One set, to the Superintendent of the census. Local jurisdictions could buy a copy of their schedules at cost.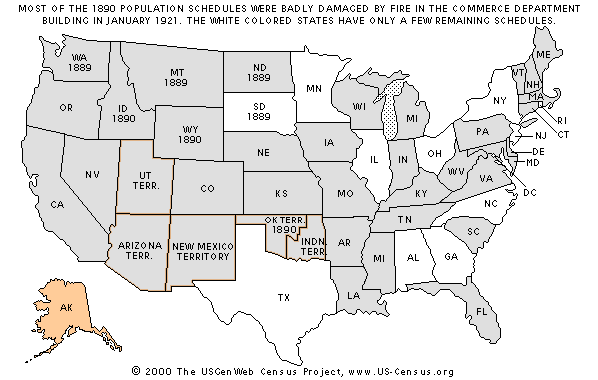 ---
Volunteer to Transcribe
|
Transcriber's Info
|
State Census Index
|
Site Map
---
Online Census Inventory
|
The USGenWeb Census Project
|
Mortality Census Assignments
---
To narrow your search results put Last Name first inside quotation marks.
EXAMPLE "Smith, John"

Webmaster
---
© The USGenWeb Census Project ®
---