---
Thirteenth U.S. decennial population census.
U.S. population: 92.2 million
Census conducted by the Director of the Census (Census Bureau, U.S. Department of Commerce and Labor).
Census day: 15 April 1910.
Mandated copies: One set, to the Director of the Census. Local jurisdictions could buy a copy of their schedules at cost.
The original census schedules were destroyed in the 1940s after being microfilmed.
Information Provided on 1910 Census:
Address
name
relationship to family head
sex; race; age
marital status
number of years of present marriage
for women, number of children born and number now living
birthplace and mother tongue of person and parents
if foreign born, year of immigration, whether naturalized, and whether able to speak English, or if not, language spoken
occupation, industry, and class of worker
if an employee, whether out of work during year
literacy
school attendance
home owned or rented
if owned, whether mortgaged
whether farm or house
whether a survivor of Union or Confederate Army or Navy
whether blind, deaf and dumb.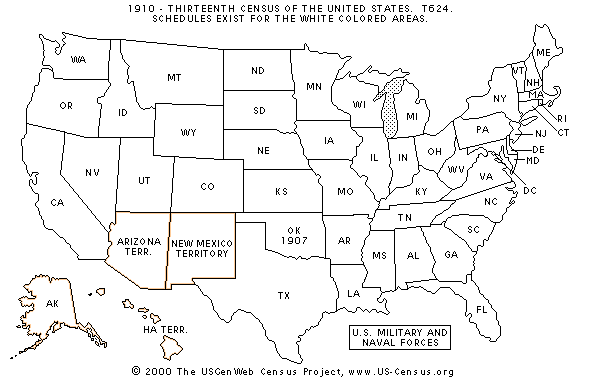 ---
Volunteer to Transcribe
|
Transcriber's Info
|
State Census Index
|
Site Map
---
Online Census Inventory
|
The USGenWeb Census Project
|
Mortality Census Assignments
---
To narrow your search results put Last Name first inside quotation marks.
EXAMPLE "Smith, John"

Webmaster
---
© The USGenWeb Census Project ®
---